After almost 5 months, my mind have been battling between Android, Apple and Blackberry. The result? After watched, read and listened to several offers from the Android, I have finally made up my mind. Yes, there are lots of good Androids out there but it still cant change my heart towards the Apple family.
Which i am happy to reveal that I'm joining the Apple family and follower and am happy with the decision. First step of as an Apple follower, start collecting the Apple product starts from the Ipod, Iphone, Ipad until the Mac. Its going to take quite a time to get the whole family. But, im not in a hurry and i have all the time that i can get.=)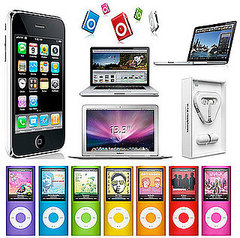 Yes, i admit i'm a gadget freak. So? Is there any problems with it? I will touch on other smartphones for review also even though I'm an Apple follower. Because there will be lots of awesome gadget to come near you. So stay tuned!