1.Cabbage & Condom - Thailand
Diorg xsell makanan dlm kondom. But still, korang masih ade appetite ke kalu end up dlm restoran ni? Specialty? Spicy condom salad which is fried Shanghai noodles spiced with herbs. The slogan? "Our food is guaranteed not to cause pregnancy"
2. Toilet Restaurant - Taiwan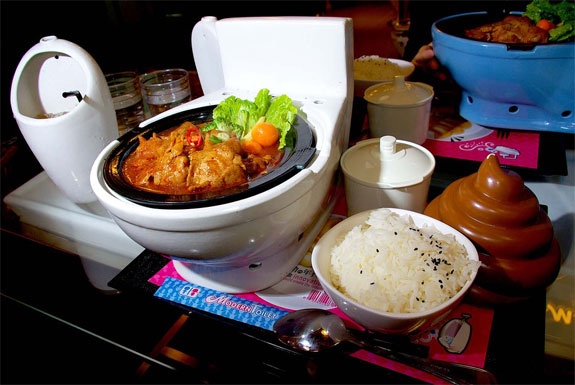 Sape nak merasa makan dlm mangkuk tandas? Bau ehem2 kemungkinan tak de tapi imagination korang boleh menganggu korang menikmati makanan.
3. In The Dark Restaurant - London
Nama restaurant could be different in around the world tapi the concept is the same. Dlm kegelapan, tgn korang akn terkial2 cari gelas, sudu, or even makanan korang. Watever they serve tu, pasrah saja. Bayangkan mase nk makan tetibe cicak terjatuh dr siling. GG. Hahhaa
4. Prison Restaurant - Tokyo
Mau merasa keadaan makan dlm penjara? Prison restoran is for you.
5. The Clinic - Singapore
Kalu nk rase pengalaman makan smbil duduk di wheelchar, inilah tempat nye. Konsep mcm The Apartment tapi diganti dgn hospital bed.