Ashley Judd, pelakon Hollywood yang seangkatan dengan zaman kegemilangan Julia Roberts, kini telah kembali untuk mempromosikan drama terbarunya '
Missing
'. Dia pernah berlakon dgn Morgan Freeman dalam '
Kiss The Girl
' & '
High Crimes
' dan berganding dengan Al Pacino & Robert De Niro dalam '
Heat
'. Ashley Judd yang memang terkenal dgn kecantikannya yang semula jadi berbanding Dolly Parton masa dahulu, has shocked many people with her new appearance.
Ashley Judd then...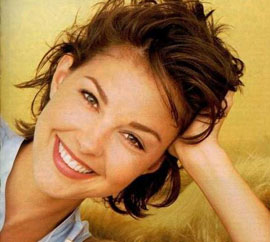 Here is Ashley Judd now...
-
-
-
-
-
-
-
-
-
-
-
-
-
-
-
-
-
-
-
-
-
-
-
-
-
-
-
-
-
-
Who is Dolly Parton you asked? Dolly Parton is the blonde country singer who known for her insurance covered on her big boobs. Dolly Parton dulu cantik gak la before she went under the knife.
Dolly Parton now..
So guys, the moral of the story? Plastic surgery is bad for you. Gunakan saja air wuduk atau air yassin dan sapukan pada muka untuk mengekalkan kecantikan. Ini petua popular yang diamalkan oleh retis2 kita. Pasti kulit kita akan cantik sentiasa. Tgk la retis wanita kita, umur sudah meningkat 50-an pon masih tiada kedutan di muka. Hebatkan petua ni?